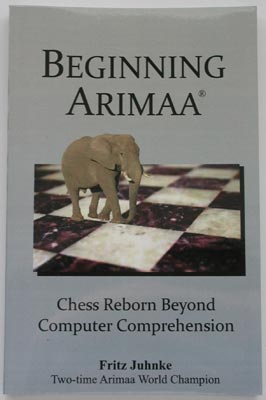 touch cover to see back
Price: $16.95 USD
Out of stock.
You can also order this book from CreateSpace (to benefit the author more) or Amazon, but if you want a copy signed by the author then place order here.
Order with Set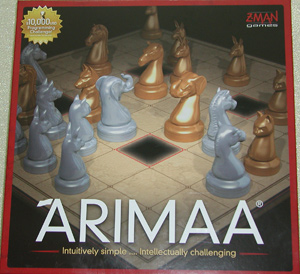 As the first book written about Arimaa, "Beginning Arimaa" is the perfect introduction of this fascinating game to the world. Written in a style that is fun and easy to read, the book digs into the history of the game, why Arimaa is difficult for computers, the goal of the Arimaa challenge, a comparison of Arimaa to other games, as well as Juhnke's speculations about the future of Arimaa.
Alternating chapters of the book also cover topics on improving game play by using diagrams to illustrate key concepts discovered so far about Arimaa tactics and strategy laced with Juhnke's analysis and insights. Many positions from the Arimaa World Championship games, as well as postal and casual games are used to illustrate concepts such as swarming, blockade, hostage, frames and much more. Juhnke's lively and entertaining presentation makes learning Arimaa as well as learning about Arimaa fun even for those who are not acquainted with the game.
Language: English
Pages: 210
Cover: Paperback, glossy cover
Dimensions: 8.5 x 5.5 x 0.5 inch

Order with Set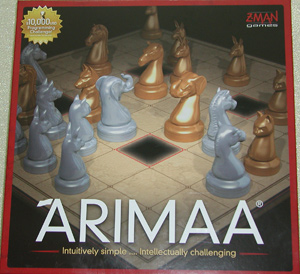 About the Author

Fritz Juhnke discovered Arimaa in 2004 and within one year became one of the top Arimaa players in the world winning the annual Arimaa World Championship in 2005 and 2008. He consistently plays with his signature setup using four rabbits forward and a very aggressive but solid attacking style. With a background in applied mathametics he is currently employed as a quantitative analyst at Yahoo Inc. Juhnke lives in Dallas, Texas, with his beloved wife Katie Hoody who often defeats him in most games other than Arimaa.
-->